This article walks you through the steps on how to turn data roaming on / off for the 5G Compact Pro (otherwise known as the ZTE MU5001) router supplied by Motorhome Wifi. It is necessary to turn data roaming on for the Broadband Go SIM card to successfully lock onto a network.
USING THE TOUCH SCREEN
1) Press the power key to light up the display
2) Touch and hold on the screen to unlock
3) Press the Settings icon to get to the Settings menu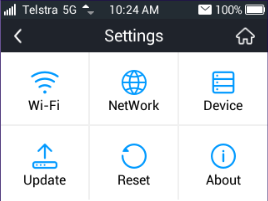 4) Press the Network icon
5) Switch "International Data Roaming" on
6) IMPORTANT: Restart the router - by holding the power button until it has shut down, then hold the power button for 2 seconds to turn it back on. Allow up to five minutes for the router to locate a network and connect to the internet.